ARMADALE HIGHLAND GATHERING
The Armadale Highland Gathering is a FREE event, you do not require a ticket.
You will need to register separately
 

for the Perth Kilt Run by CLICKING HERE.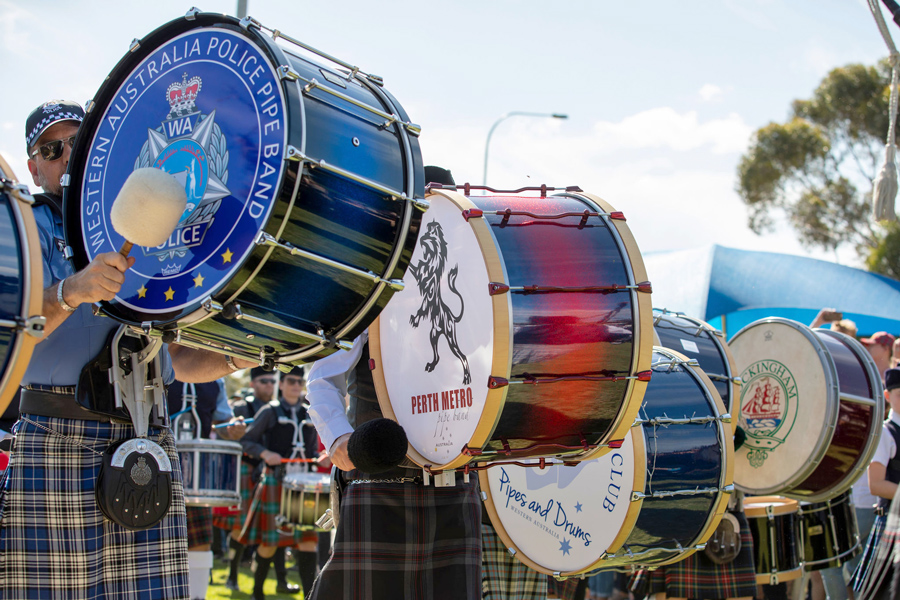 Pipe Band Competitions
Featuring some of WA's award winning Pipe Bands, the Pipe Band competitions will take place on Frog Hollow (next to Minnawarra Park).
Come the end of the day, the Pipe Bands display a powerful tribute to its Scottish ties by presenting the Massed Pipe Band procession.
This year's Pipe Band competitions are organised by Pipe Bands WA. For more information about Pipe Bands WA please visit their website here.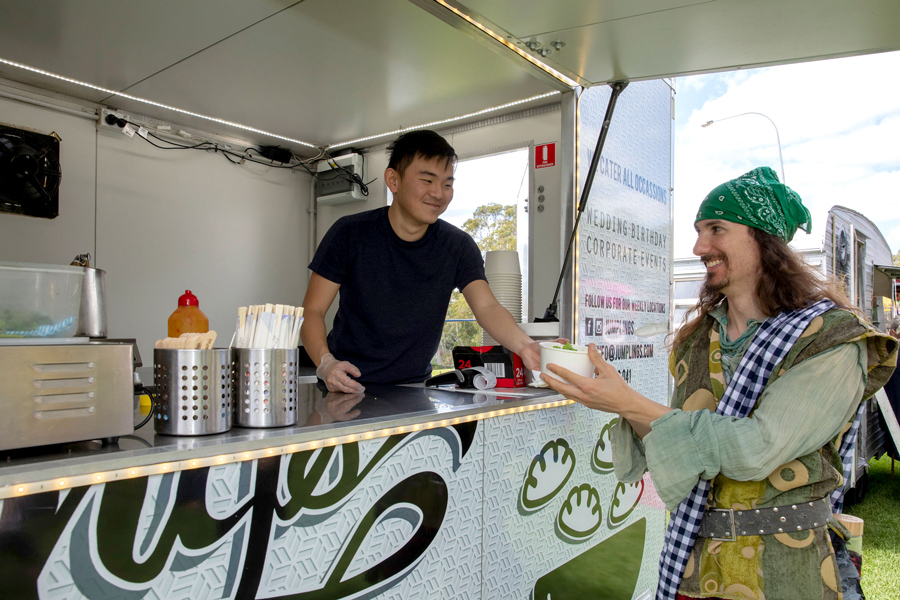 Food Court
There is plenty of food at the Armadale Highland Gathering. From traditional haggis and square sausage to fudge tablet and black pudding – you can try a variety of Scottish delicacies.
If these don't peak your interest we have more including, sausage sizzle, multi-cultural foods, churros, icecream and the list goes on.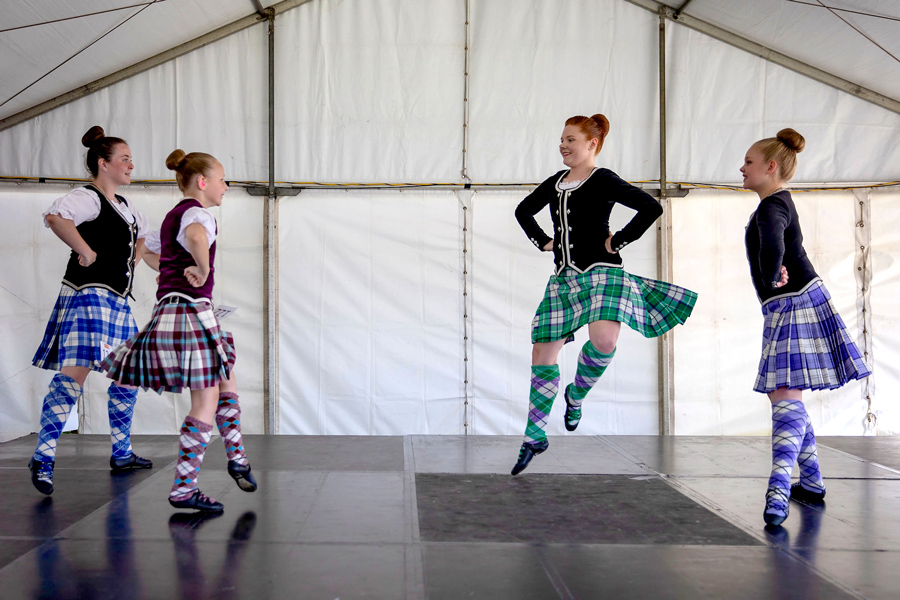 Highland Dancing 
A competitive solo dance, Highland Dancing is one of the most vibrant events at the Gathering, where dancers of various ages dance at beginner, intermediate and premier levels.
Be sure to come and watch these accomplished dancers perform various jigs in colourful Scottish attire .
This year's Highland Dancer are being organised by the WA Metropolitan Regional Committee of Highland Dancing Incorporate (WAMRCHDI). For more information about the WAMRCHDI please visit their website here.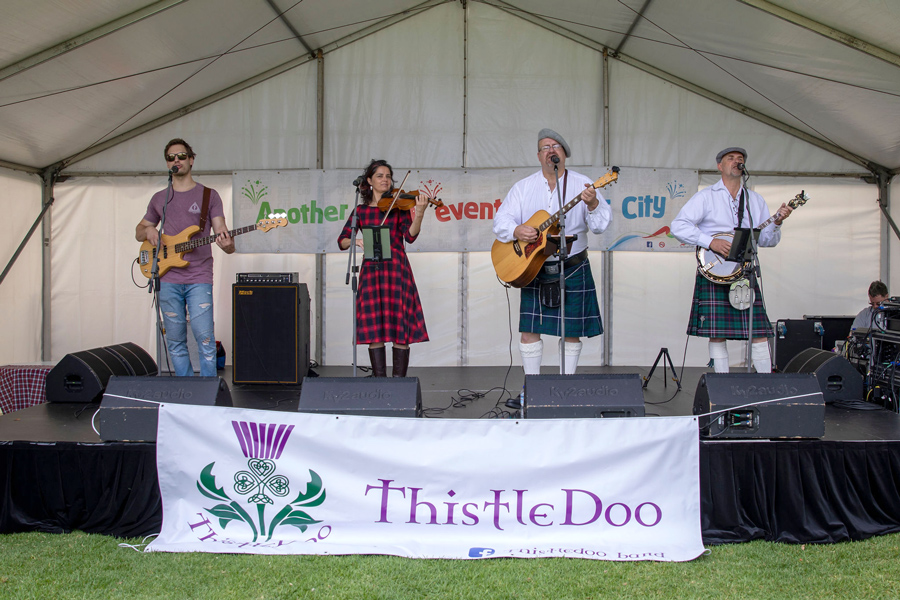 Live performances
Live entertainment of the Scottish variety will captive audiences throughout the Armadale Highland Gathering including guitar, fiddlers, singers and highland dancers. Performers this year includes Heel 'n' Toe Ceilidh and local bands The Jarrah Celts, Thistledoo and the Armadale City Concert Band.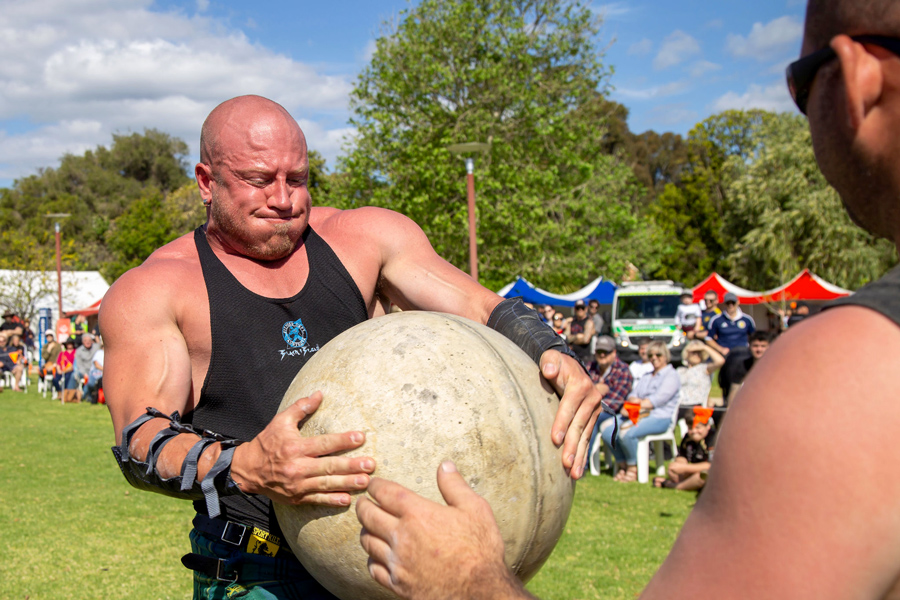 Armadale Atlas Stones
The event sees the return of the Armadale Atlas Stones, nine reinforced concrete spheres ranging in weight from 9-161kg. Lifting stones have been a part of many European cultures as a traditional test of strength and endurance.
When lifting stones were brought to the World Strongest Man competition, they were previously known as the McGlashen Stones, Scotland's traditional Clach cuid fir or in Gaelic, 'manhood stones'. At the 1998 World Strongest Man competition held in the Atlas Mountains of Morocco, the name was changed in reflection to the connection with the Greek titan Greek titan Atlas, who was condemned by Zeus to hold up the heavens for all eternity after losing a war against the Greek gods. 
Brought to you by the City of Armadale through the initiative of the Armadale Highland Gathering Committee's Heavy Events Team, product made by and photo credit to Ford Strength.
Come try your hand at these stones and see how many into the nine you can lift. Anyone can have a go!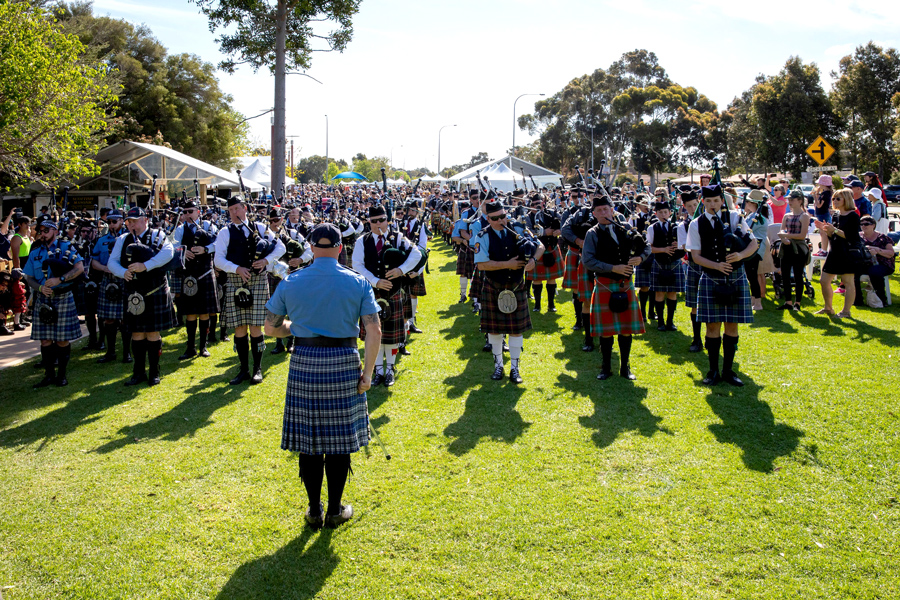 Traditions and Ceremonies
The Armadale Highland Gathering and the Perth Kilt Run is comprised of traditions of Scottish culture and previous Armadale Highland Gatherings.
Mayor's Procession
The event begins with the Mayor's Procession in which the City of Armadale Mayor Ruth Butterfield will lead City Councillors, the Armadale Highland Gathering Committee and community groups responsible for making the Armadale Highland Gathering possible, to the main festivities. The Procession will march through the main event site and arrive at the Main Stage to open the Gathering and kick off the Perth Kilt Run.
Address to Haggis
The Address to Haggis is presented on the main stage by Jim Anderson, one of the best presenters in WA of this tradition. The Address to Haggis is a theatrical Scottish welcome that celebrates haggis and welcomes guests in the sharing of the meal. The ceremony is a poem written by Robert Burns, which praises the haggis and all who eat it and mocks those who don't.
Massed Pipe Band Procession, 3:30pm
The crowd will be treated to a massed pipe band procession marching through the event site. Enjoy the sounds of over 50 bagpipes and drums harmonically resonate throughout the park in a wonderful marching display.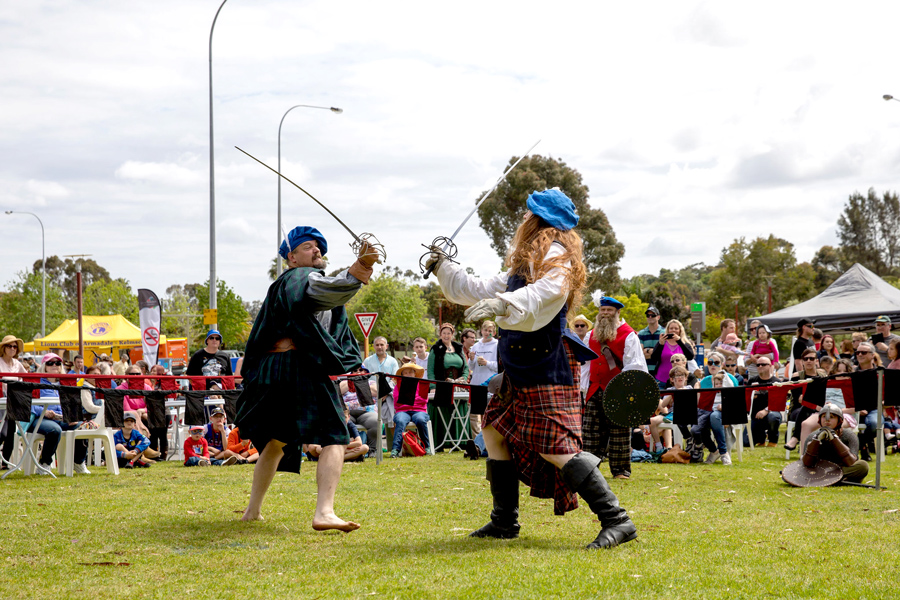 Medieval Fair
Artisans, Blacksmiths, Knights and Ladies all await your visit into the Medieval Fair as you are transported back in time and into this hive of activity. A fine display of skill in the medieval arts and crafts, watch as the knights battle in the arena or visit the armoury for your chance of some excitement.
2023 participating groups
Knights of the Free Company
LARPwest
Sword Point College of Arms
Society for Creative Anachronism
The Grey Company
West Australian Berserkers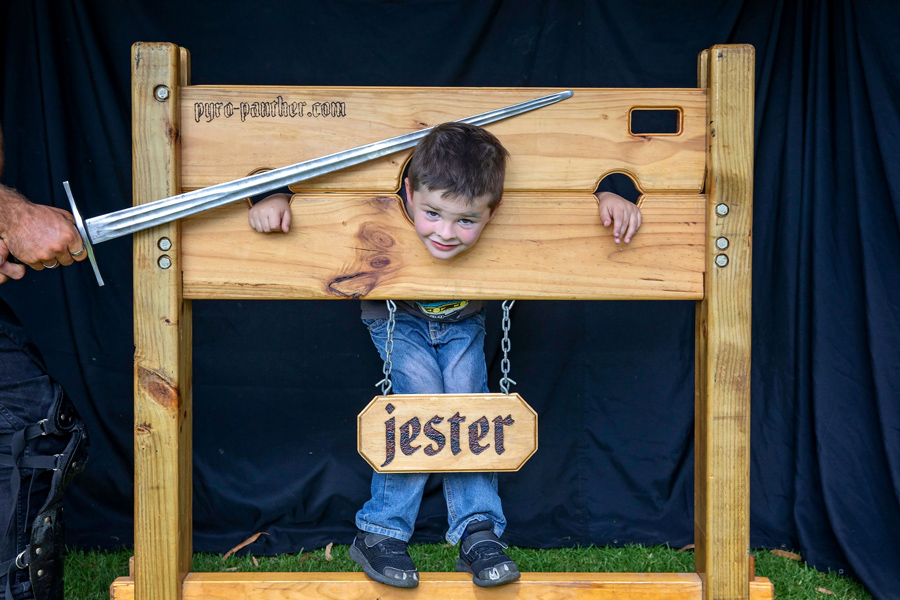 Free Children's Activities
The kids can try their hands with some Scottish fun as well with loads of activities throughout the day including free boffer sword fighting, face painting, children's highland games and shows!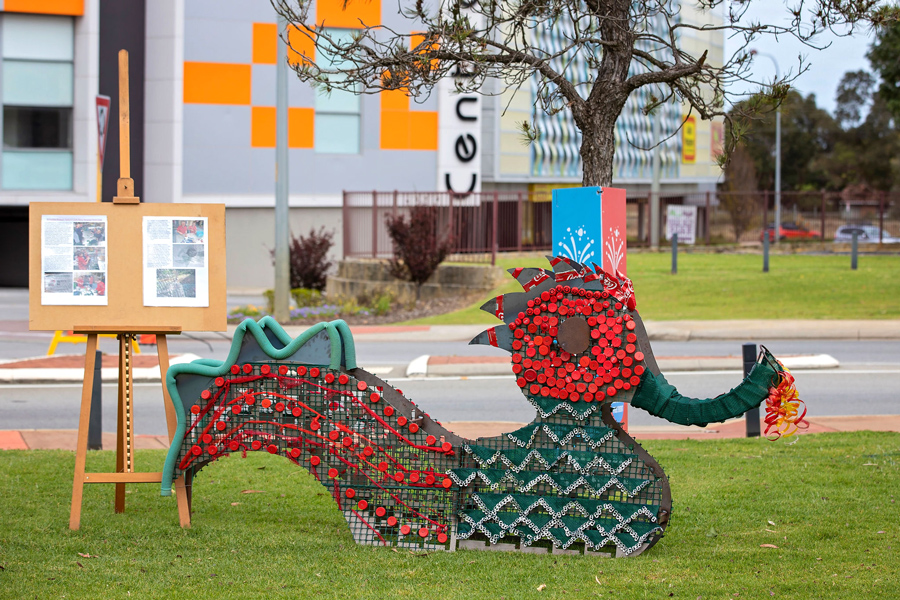 Loch Mess Monster Upcycle Challenge
The Loch Mess Monster Upcycle Challenge has gone mini for 2023 and turned into a local schools challenge made with only organic materials.
Check out the entries from local schools, and cast your vote for the People's Choice award, display and voting located near the gazebo! This challenge is proudly supported by REmida with prizes for winning schools.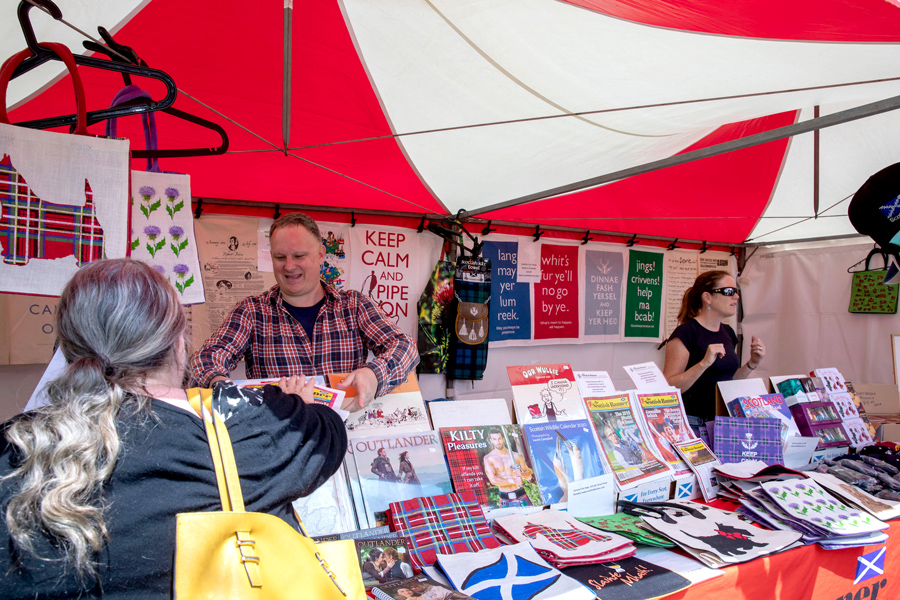 Clan Village and Stallholders
For all things Scottish (and for fun) we have a rowdy village full of clans and market stalls.
If you have some Scottish heritage but haven't joined your ancestor's clan, come and connect with your kinship. If you want your some Scottish souvenirs, kilts, pet wares and more, then this is the place to be.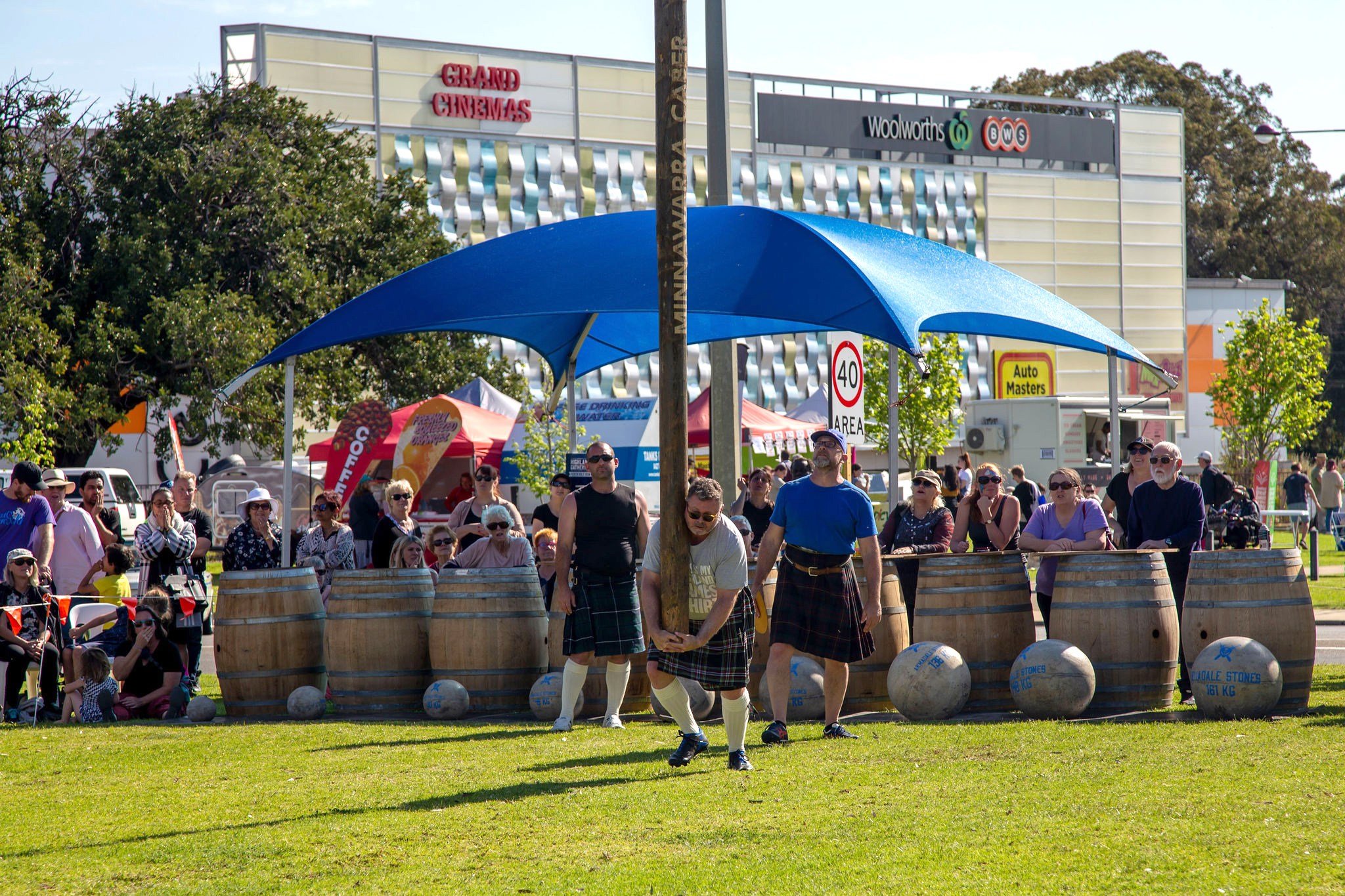 Heavy Events
The Heavy Events showcase the athletic skills of our tartan warriors as they compete in a traditional strongman competition. Visitors will bear witness to astounding strength and determination as competitors battle in the following events:
For each competition you can have a chance at winning 1st place ($100), 2nd place ($60), 3rd place ($40), 4th place ($30) or 5th place ($20), and have your name engraved on the City's Heavy Events trophies. For your chance to be a part of the Heavy Events, please contact Jay Waller through their
Facebook
group.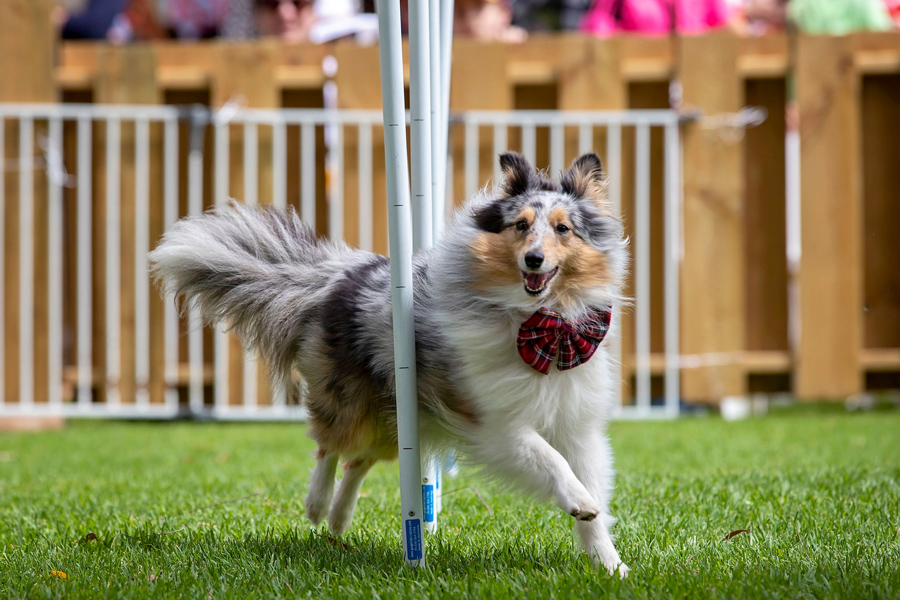 Meet and Greet Scottish Dogs
Scottish dogs of many sizes and colours will be joining the festivities, they and their owners look forward to meeting you just across the bridge in Minnawarra Park! Dog agility demonstrations will be held throughout the day. Always a popular display at this event, you will treated to a sporting display of experienced dogs and a few new rookies, perform a variety of skills in the arena. Owners are happy for you to come and meet their friendly dog and find out more about these amazing breeds and how to look after them. If you are considering bringing your dog down to this event, please ensure they are on a lead at all times and you clean up after them, with some waste bags provided at the park. We also recommend you consider your dog's ability to handle large crowds, loud noises and other dogs within the area.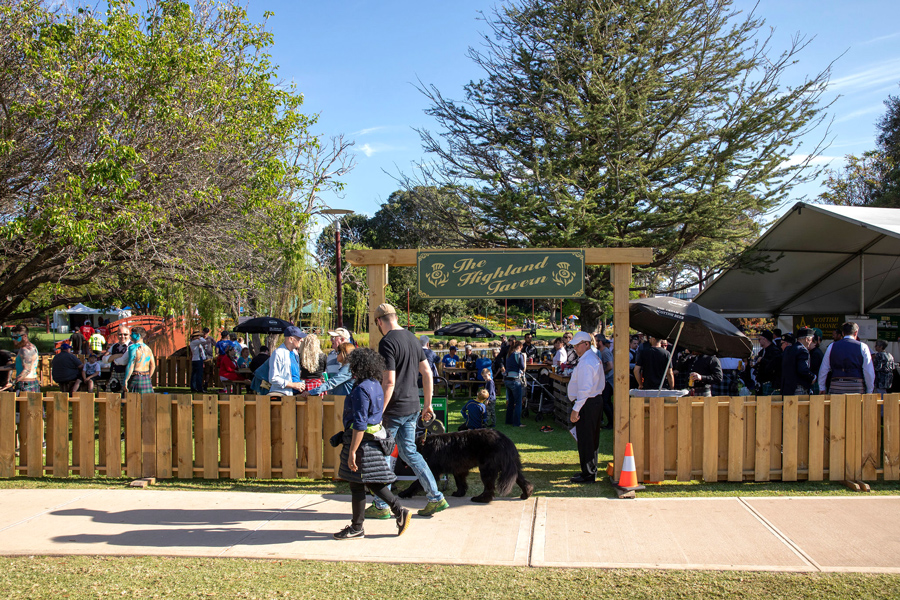 Scottish inspired tavern
Brought to you by the
Scottish Masonic Charitable Foundation of Western Australia
, this Scottish inspired tavern is open 11am to 4pm by the Main Stage. Enjoy quality beverages from Scotland and the British Isles. All proceeds go back to the Scottish Masonic Charitable Foundation.